See How Our Lawyers Can Help YoU
Contact Us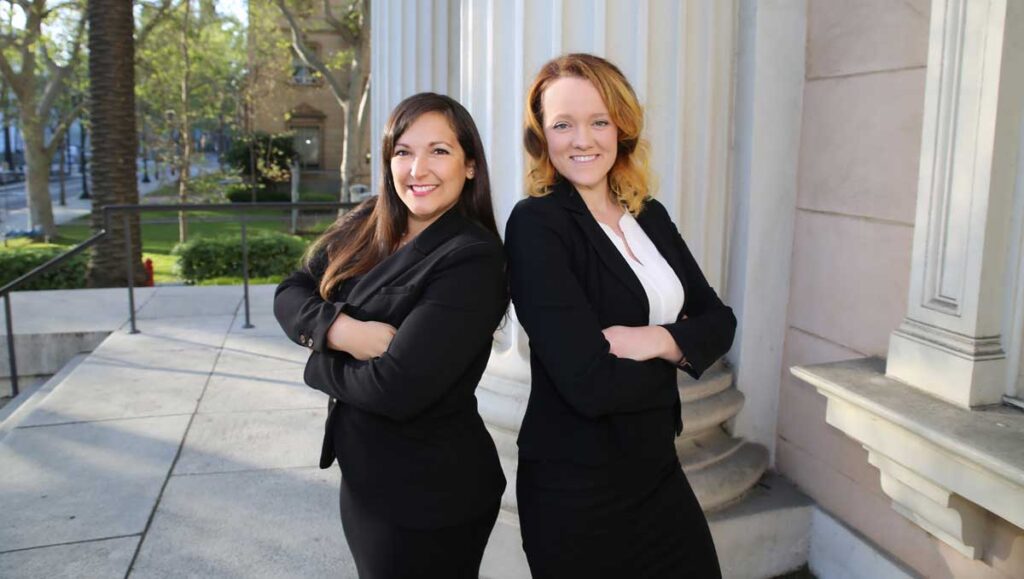 See for yourself why the Gomez Edwards Law Group has a 5-Star rating and rave reviews. 

Top Santa Clara estate planning and family law attorneys Natalie Gomez and Lauren Edwards are committed to helping you resolve your issue with passion, integrity and strategic acumen.
Call (408) 413-1200 or contact us below for a consultation today.
COVID UPDATE: We are open for business and accepting new clients. We are following all State and Local guidelines to ensure the safety of clients and staff. At this time we are offering new and existing clients appointments via phone call or video conferencing. Please call or email us to discuss your appointment options.
Get In touCh
Please contact us for a Consultation.
Please send us your message today.
Please do not include any confidential information in this form. This form sends information by non-encrypted email which is not secure. Submitting this form does not create an attorney-client relationship. Thank you. 
Legal disclaimer: Transmission or receipt of the materials and information contained on this website does not constitute solicitation of legal services. Further nothing on this site serves to create an attorney-client relationship. By contacting Gomez Edwards Law Group, LLP, any of its attorneys or employees, you agree that Gomez Edwards Law Group, LLP may review any information that you transmit to us, whether submitted at our request or not. You recognize that our review of any unsolicited information you may submit, even if you submitted it in a good faith effort to retain us, and, further, even if it is highly confidential, is not sufficient alone to create a confidential attorney client relationship, and does not preclude us from representing another client directly adverse to you, even in a matter in which that information could and will be used against you. You should not send confidential information or information that you regard as privileged to Gomez Edwards Law Group, LLP until you have received written confirmation from Gomez Edwards Law Group, LLP of its willingness to provide the legal services you may request. The content of any correspondence you send via the Internet will not be considered confidential unless you have received such written confirmation.
MAP DIRECTIONS
GettinG Here
From the 880 Freeway:
Exit the Freeway on the Alameda and turn North, heading towards Santa Clara University.
Make a Left Turn on Newhall Street and head all the way down to Park Avenue.
Make a Right turn on Park Avenue and drive to Camino Drive
Make another Right turn on Camino Drive and continue towards The Alameda.
Our building is located on the corner of Camino Drive and The Alameda.
Please feel free to Park in our Parking Lot located off of Camino Drive, in the back of our building.
There is an entrance to our building from the parking lot, where you can take the stairs or elevator up to the second floor.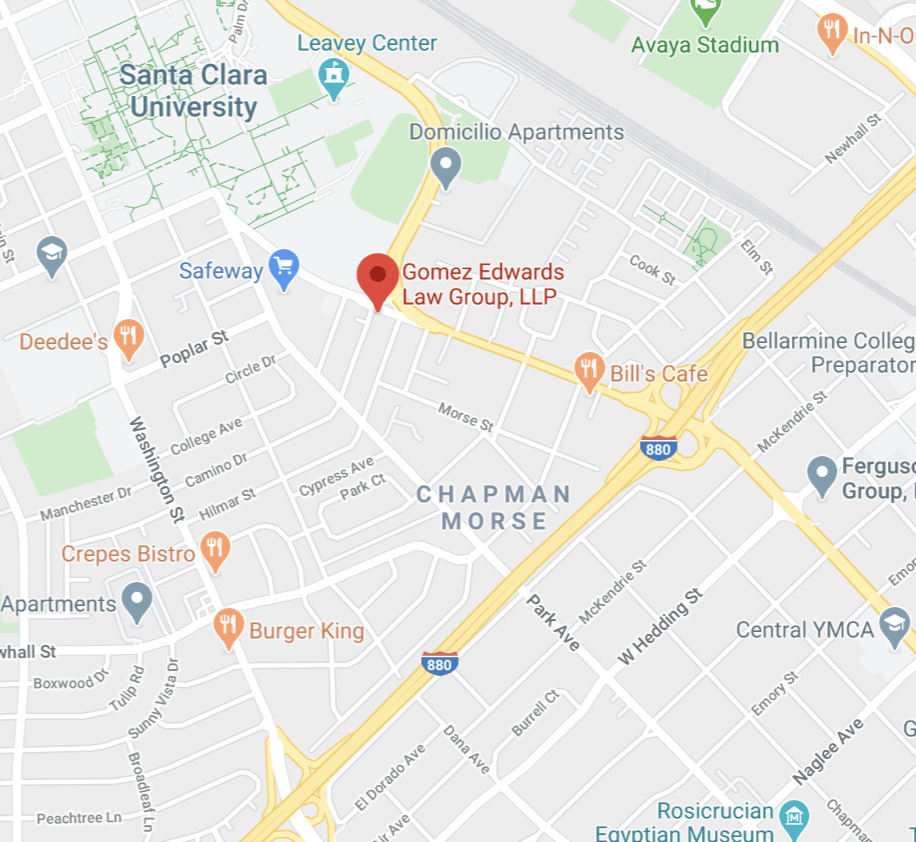 OFFICE
Gomez Edwards Law Group
2391 The Alameda, Suite 200
Santa Clara, CA 95050
Gomez Edwards Law Group has represented clients in these San Francisco Bay Area cities: Atherton, Campbell, Los Altos, Mountain View, Los Gatos, Saratoga, Santa Clara, San Jose, Sunnyvale, Milpitas, Palo Alto and more.

The law firm has also represented clients in: 
Santa Clara County, Alameda County, San Mateo County, San Francisco County, Santa Cruz County, Marin County and more.

   LGBTQ FRIENDLY
Discover why Gomez Edwards Law Group is one of the top up-and-coming law firms in Santa Clara County:
© 2020 -2022 Gomez Edwards Law Group
All rights reserved.